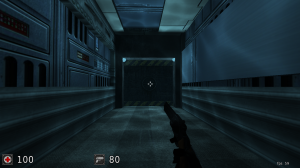 Infernal Underground is an Old School FPS developed when I made my own Development group called Darkware Game Studios (The same team that after becomes part of the Formerly HeXentic Games called now W Studios Chile). I worked in the project since July 2010, and I've spent most of the time planning, but the development process started in early April 2011 where a competition organized by the old community of gamedev.cl made a challenge to make a game with free theme and we participate with the beta version of Infernal Underground.
When beta was published I started a work in 2013 with the idea of redesign and retexture the whole game, also it includes the next levels to complete the game in December 2013.
I made the whole design of the game, Level Design, Story and programming of the level scripts in any of the maps.
Cube 2 Engine is an Open Source Engine so even I spent time in programming, I made a Save System with an Achievement system for the game. Also the scripting to include personal content such as music and textures.
The game can be downloaded in moddb.com
Also here is a video of one of my favorites maps in the game and I really enjoyed to make (The music is of Doom 2 and is different in the complete game)