Hello people.
Well now I promise more activity in this blog, I'm back in game development  after a really good rest of 6 months, after of the release of my First game Infernal Underground, even getting more coverage that I really expected on him. Infernal Underground was published in the last days of December 2014
You can download it in ModDB
Also we got some coverages from Youtubers as XxChipitoxX and xtomass
And also covered by a German game blog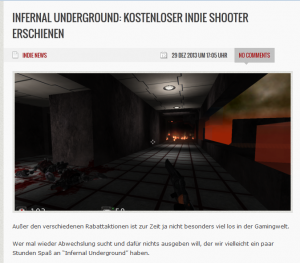 I really apologize that I didn't post that here, but now I'm back and also I will use this platform because this is my last year in my faculty (YEAH FINALLY I'LL FINISH THIS STUFF) and it means I must work in my thesis project, and yeah I have the plans to do it in videogame area… I'm not sure if I will do in a videogame itself or probably in game engine plugin or another stuff… So I'll keep you noticed..
Thanks for read and see ya!